Lesson 2: Formatting Book Interiors
Learning Outcome
Format manuscripts for publication.
Construct documents in Microsoft Word that comply with a selected service's requirements.
Modify and apply styles, headers and footers, and sections to manuscript contents.
Lesson
Though print books and eBooks look very different in their final forms, conversion for both is simple if you follow some formatting best practices. This lesson will cover how to prepare your manuscript in Microsoft Word using styles, sections, and other useful elements. You can apply the same principles in other programs like LibreOffice and InDesign, though the terminology and tools will differ between software.
Before we get started, download the Dracula Word Document. As you go through the lesson, practice the concepts demontrated using Microsoft Word.
In This Lesson
Prepare Content
Separation of Content and Presentation
In the bygone days of typewriters, people manipulated the appearance of text on the page using the keys alone: spaces to advance to the right, tabs to indent paragraphs, returns to add new lines, and so on.
Today, designers separate content from presentation as much as possible. They use styles to set the appearance of texts differently for print and electronic devices. Any extra spaces, tabs, and returns—or other characters employed for looks only—either get lost or get in the way.
Clean Up Content
To prepare your manuscript for publication, you should first clean up any content that isn't really content.
This Word document of Jane Austen's Pride and Prejudice might look clean at first glance.

But if you toggle the Show/Hide button of the Home tab to reveal non-printing marks, you'll see the enter key was used to add space between paragraphs.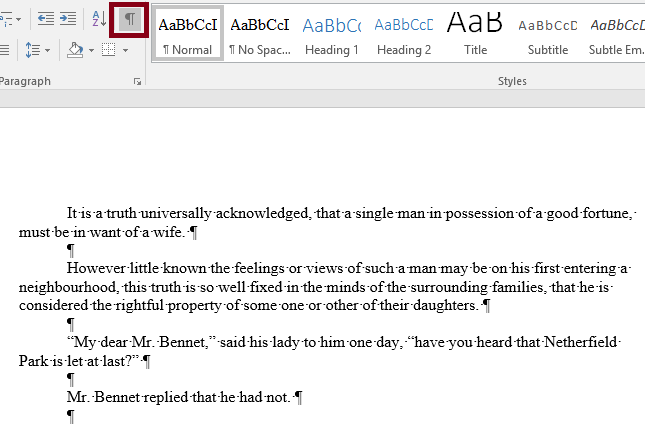 To clean these up, open the Find and Replace window. Click "More" to expand advanced options. At the bottom click "Special" to open a menu of special characters you can replace. Select "Paragraph Mark." Repeat to put two paragraph marks in the "Find what" field. Then put one paragraph mark in the "Replace with" field.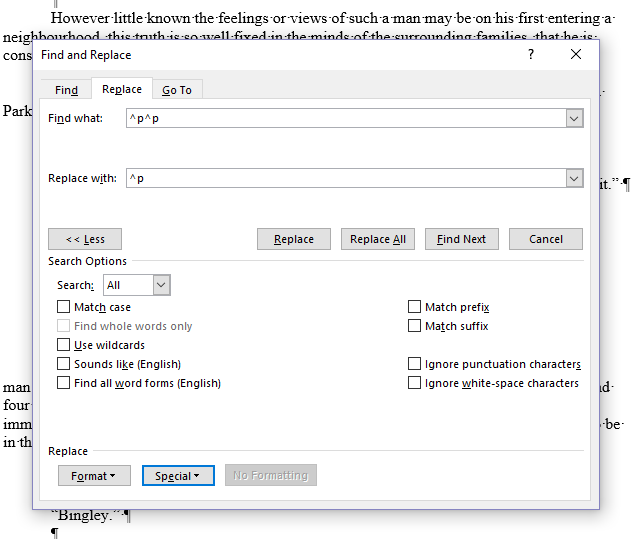 Click "Replace All." The empty paragraphs will be removed. If you used the enter key to push text to the next page, pad scene breaks, etc., you might need to click "Replace All" multiple times until there are none left to replace.

Repeat this procedure for other invisible whitespace marks hidden in the document, like tabs, multiple spaces, and manual line breaks. See "Common Mistakes Made When Writing a Book in Microsoft Word."
Note: Sometimes Word tries to be helpful by converting tab presses at the start of new paragraphs into first-line indents, instead of inserting the actual tab character. We'll standardize those in the next step by applying styles.
Apply Styles
When typing up your manuscript, you might have changed the appearance of certain paragraphs manually. For example, for each chapter title you might have bolded the text and increased the font size.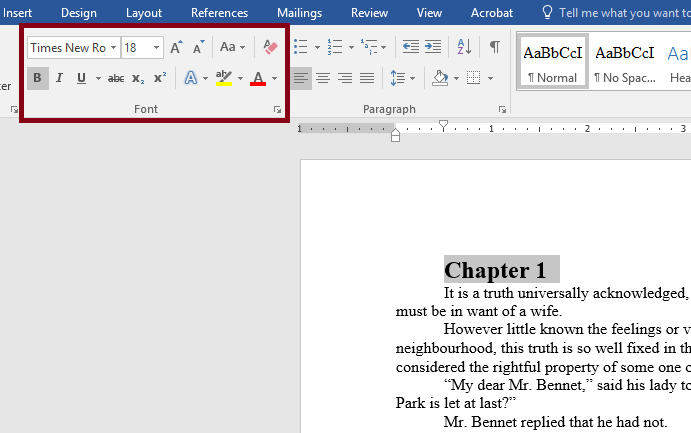 Styles make changes like this much easier. First, once you define a style, you can apply it to any selected text with a single click. You don't have to remember the precise font and paragraph settings you used before. Second, if you want to change the look later, you can modify the style, and your modifications will apply immediately everywhere. No more hunting down every chapter title and manually setting a new font family.
Third, using proper heading styles gives your document structure. Then while working, you can use the navigation pane to jump instantly to different parts of your manuscript. If you want to create an eBook later, conversion software will try to detect these headings to create chapter breaks and links.
Finally, applying styles will allow you to perform some neat tricks later, like creating an automated table of contents, performing find/replace operations that target only certain paragraphs, or automatically populating headers and footers with the contents of certain paragraphs.
The following video demonstrates how to create and apply styles in Microsoft Word.
Here are some tips for books in particular:
In both print and the web, single-spaced text is difficult to read. Try 1.15 or 1.5 when defining your normal paragraph style.
In novels, text is usually justified.
Widow/Orphan Control ensures paragraphs stay together, and you don't have stray single lines at the end or tops of pages. Turning it off will reduce the number of pages in your document, but will make the printed book harder to read and less aesthetically pleasing.
You can set your chapter title style to always insert a page break before the header. (Use the Line and Page Breaks tab of the Paragraph window.)
If all of your chapters begin with a certain word like "Chapter," you can apply your header style to all of them at once using Find and Replace. Put the word or a more advanced pattern in the "Find what" field. Click in the "Replace with" field, but don't type anything. Under Format, select Style and choose the style you wish to apply. Click Replace All.
For example, the image below shows the settings to search for all instances of the word "chapter" followed by a single space and a number, and to apply the Heading 1 style to that paragraph.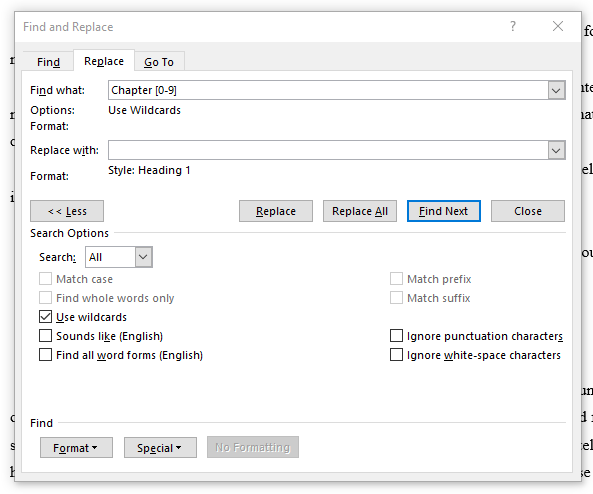 Modify Layout
Once your document is clean and styled, you can adjust the layout to create your final print product.
Tip: Before you move forward, save a copy of your clean and styled manuscript in a safe place. If you choose to release an eBook, the clean copy will convert more easily than a version with the "extras" we're about to add for print.
Format pages
The video below demonstrates how to set the size and margins of your book in Word. (You can stop watching at 11:45.)
As demonstrated, open the Page Setup window and set the "Multiple pages" option to "Mirror margins." (The "Book fold" option is for making DIY saddlestitched booklets.)
Using the requirements you found during Lesson 1, set the size of your document. Set the top, bottom, outer, and inner margins. The more generous the margins, the easier for readers to hold and read the book. The video above shows very small margins. In the screenshot below I used 1" on the top and bottom, 0.5" on the outside, and 0.75" on the inside.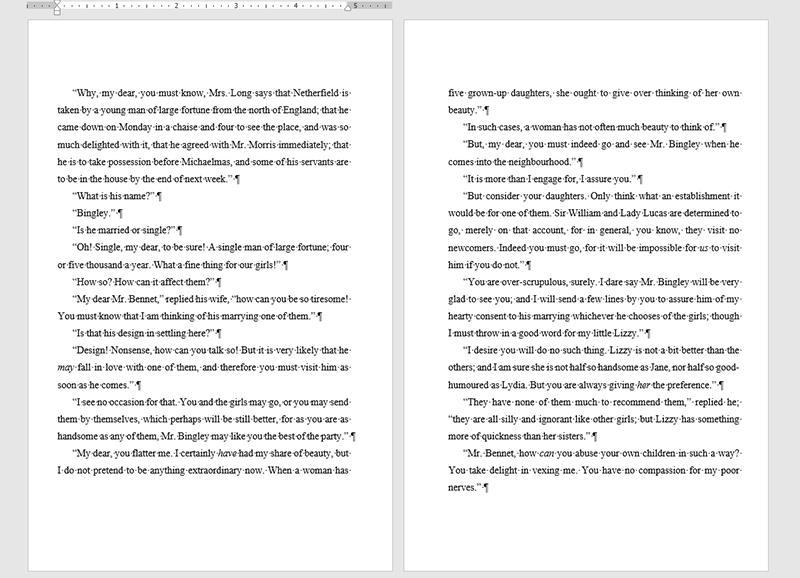 If you have content that extends to the edge of the page, add 0.125 inches of bleed to the top, bottom, and outer margins. If you don't have this kind of content, bleed is not crucial, but you might want to include it anyway so when you upload the document to your chosen publishing service, the preview will display properly.
Note: In the Multiple Pages view of Word, the first page displays on the left, so the margins will look wrong. When printed, your first page will be on the right, so what appears in Word to be the inside margin is really the outside and vice versa. If this bothers you, add an odd page section break at the very beginning of your document. Just remember to remove the extra pages from the PDF when you export your file in the end.
Set sections
Sections in Word allow you to change the page layout and header/footer properties of some pages without affecting others. In novels and anthologies, it can be useful to put every chapter in its own section.
This Microsoft help page demonstrates how to work with section breaks: "Insert, delete, or change a section break."
In the screenshot below, I added "next page" section breaks to the start of every chapter in the document. If you want your chapters to always begin on the right side, use an "odd page" section break. A continous section break will begin a section in place, without pushing the content to a new page.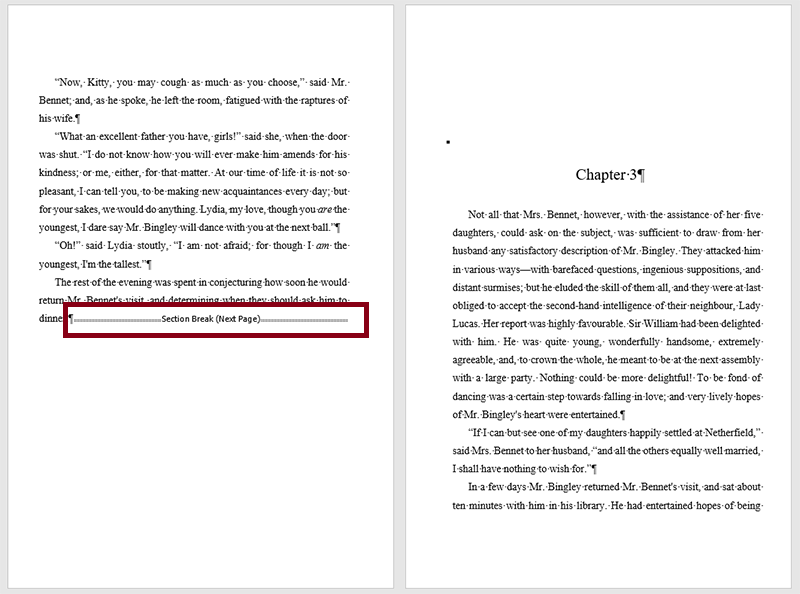 Edit headers and footers
Now that we have sections defined, we can customize headers and footers.
In Word, you can edit headers and footers by either double-clicking in that region of the page, or by using the Header & Footer section of the Insert tab. Either way will open a new Design tab with options specific for headers and footers.

The option "Different First Page" allows you to set a different header/footer for the first page than the rest of the section. If you thumb through a few published books, you'll notice the first page of each chapter always has a blank header, and frequently a blank footer as well.
The option "Different Odd & Even Pages" allows you to set the headers/footers of odd and even pages separately. For example, novels commonly display the author on left-hand pages and the title on right-hand pages.
"Link to Previous" continues the header/footer of the previous section to the current one. I suggest leaving it on unless you have an unavoidable reason for turning it off, because if you unlink your sections you'll need to update every one individually to make a change.
You can navigate between templates and sections by clicking "Previous" and "Next," so you don't have to find certain pages and reopen the Design tab. If you have a different first page and different odd & even pages, the "next" button will send you initially to the first page template, then the even template, then the odd one (or the odd and then the even, depending where each happens to fall), and then the next section.
Add page numbers
To add page numbers, use the drop-down on the far left and position the number wherever you want. If you have different odd and even pages, you'll need to do this for both of them.
In the first section, open the option "Format Page Numbers" and set the numbering to "Start at 1." When you add front matter later, you'll want your page numbers to start when the book properly begins, not at your title page.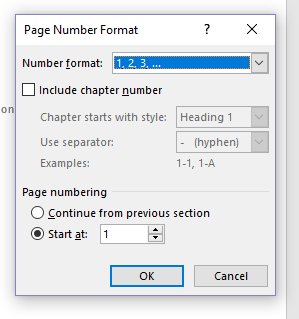 Add headers
Define your headers for the odd and even pages. Some published books put the book title on the left and chapter title on the right, or the author's name on the left and the book title on the right, as I have in the screenshot below.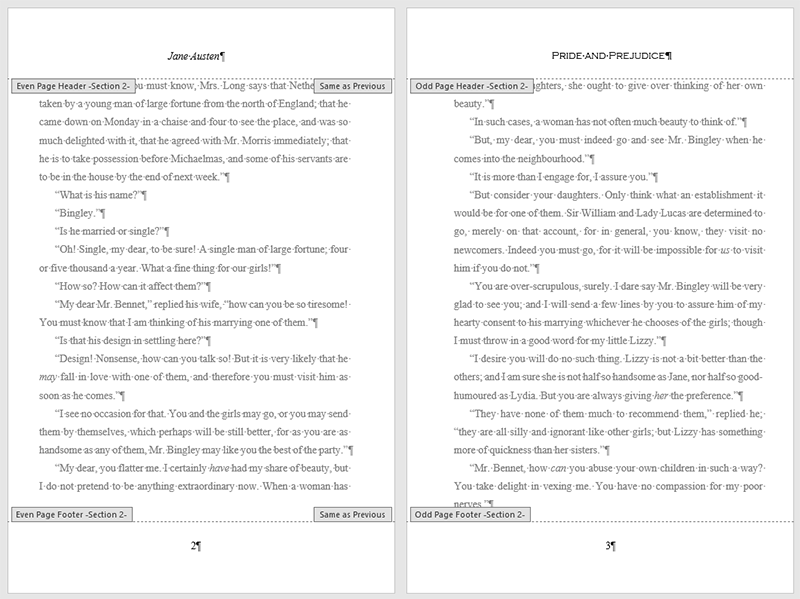 If you want to automatically populate headers with chapter titles, first place the cursor where you want the title to go. In the Design tab, open the "Quick Parts" drop-down and select "Field." Select the category "Links and References." Under "Field names," select "StyleRef." Under "Style name," select the style you applied to each of your chapter titles (for example, Heading 1) and click OK. Like magic, the chapter title will be copied where you want it. If you edit the chapter title, the header will be updated too!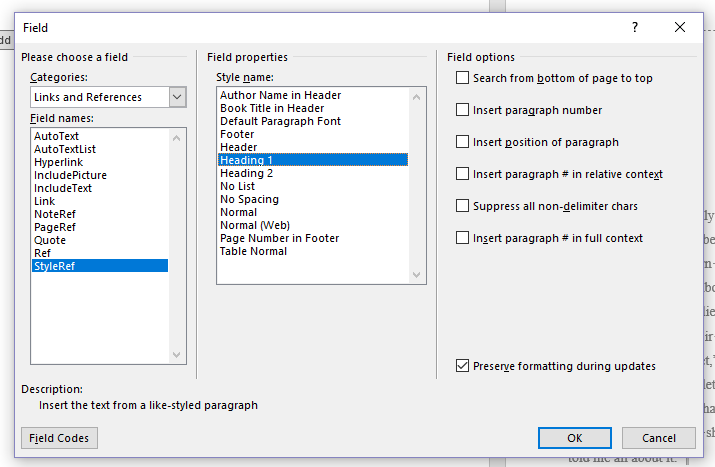 Add Front and Back Matter
This LibGuide from Michigan State University covers common elements found in front and back matter: "Publishing and Book Design Basics." Except for the title page, almost all of the elements are optional. You can add as few or as many as you want, or other things not listed: critical praise in the front matter, sequel previews in the back matter, and so on.
Add title page
To create your title page, insert a new section at the beginning of your document. Place the title and author name on the front of the page. You can center these by editing the page layout for the section to use "Vertical alignment: Center," or use the default "Top" and adjust the spacing as you like.
Add copyright page
Insert another "new page" section to place the copyright notice on the back. Use "Vertical alignment: Bottom" to position the notice at the bottom of the page. The Book Designer offers useful "Copyright samples you can copy and paste into your book."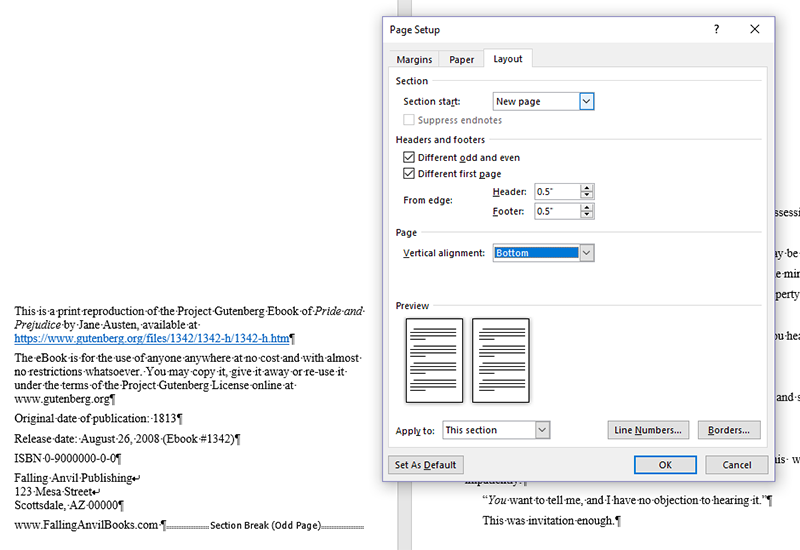 If you're using Amazon, B&N, or Lulu, start your project in the chosen portal to obtain your free ISBN. Paste it into the copyright page.
Add table of contents
Click the "References Tab." Use the "Table of Contents" drop-down at the far left to insert an automated list with page numbers. If you make subsequent changes to the document—like adding back matter—come back to this table, click on it, and select "Update" to correct the page numbers.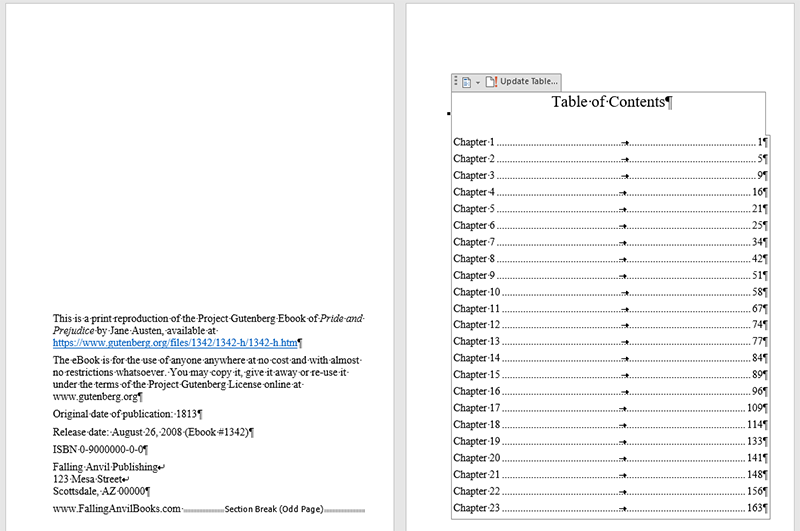 Add Finishing Touches
In the Insert tab you'll find decorative elements you can use to spice up your book interior.
Illustrations
In this section of the ribbon, you'll find options to insert pictures and shapes. If you have a personal Office 365 subscription, you'll also have access to a library of ready-made vector icons. Try adding images before chapter titles. Experiment with the options in the Format tab to add effects, recolor the image, etc.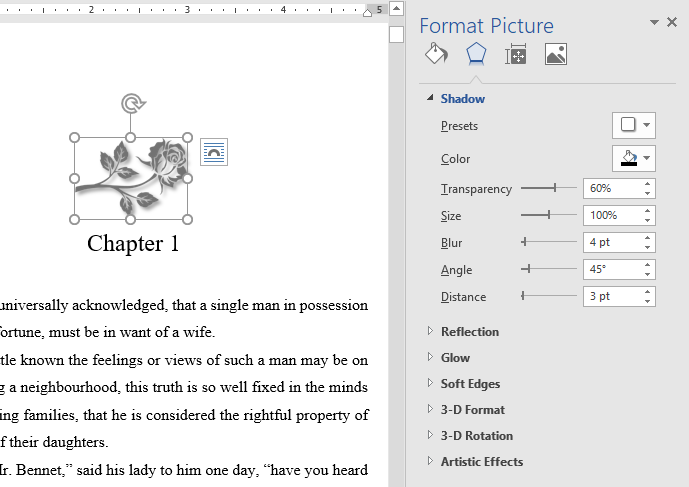 Text
The Text section of the ribbon offers Drop Cap settings. This styles the first letter of a chapter to span multiple lines. If you open the drop cap options window, you can also select a decorative font to use for that letter only.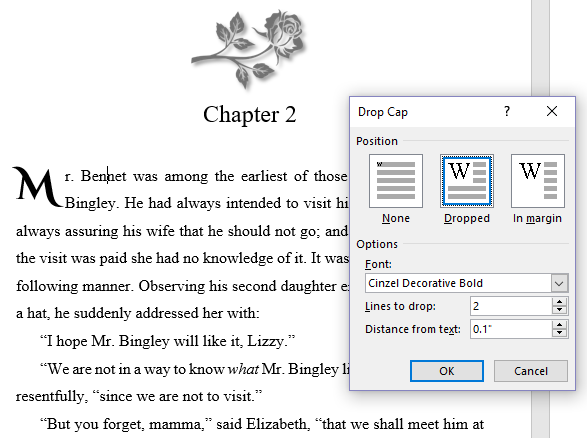 Export for Print
When your document is complete, you'll export it as a PDF. Different publishing services might have different file requirements. Follow the appropriate instructions below.
Activity: Format Your Manuscript
Using Microsoft Word, format your manuscript for print publication. This is a daunting task that will take many hours, even for an experienced Word user. Take your time and double-check your work, because every proof copy costs money!
Clean up your manuscript content.
Define and apply styles to your text.

Save a separate copy of this clean and styled version for future eBook conversion.

In the Layout tab, set the size and margins of your document.
Define sections as necessary.
Add headers and footers to your document.
Add front and back matter.
Insert decorative touches.
Export your PDF and admire your work!
In the next lesson, we'll design a cover for your book in Adobe Photoshop.
Resources
Downloads
Supplementary Readings
This slim, colorful guide covers the essentials of Microsoft Word, plus advanced features not covered in this lesson like working with themes, building blocks, and multimedia like vector icons and even 3D models!
This hefty tome is an official guide from Microsoft. Though not as readable as Word 2019 in Easy Steps, it goes into depth about every tool and function available.