Lesson 3: Designing Book Covers
Learning Outcome
Design book covers for use in print and eBook publications.
Use publisher-provided templates or specifications in Photoshop to design covers.
Produce (a) JPG files for use in eBooks and (b) flattened PDF files with correct color profiles for printing.
Lesson
Designing the cover of your book can be the most fun part of the self-publishing process, but it's also the most difficult to do well. This lesson will cover the principles of good cover design and the how-tos of using software like Photoshop to produce files.
In This Lesson
Designing Covers
Importance of Covers
"Don't judge a book by its cover" is sound advice, but it's impossible for anyone to follow in reality!
When a potential reader sees your book in a store, either virtual or brick-and-mortar, they know little or nothing about it. They must judge it by what they see on the surface. If they're browsing hundreds of books on Amazon, they'll make a split-second decision whether to learn more about your book based on the title and cover thumbnail alone.
The job of a book cover is to convey the genre, tone, and quality of the content inside. You could write the most beautiful prose in the world, but if it's hidden behind grainy clip art, nobody will ever see the first page! A good cover design captures the interest of the intended audience and persuades them to give the book a fair chance.
Principles of Design
Genre and Tone
Book genres follow certain conventions in cover design to advertise their contents. Look at the thumbnails below. Without reading the titles or author names, you can probably identify at a glance which is the romance, the thriller, and the nonfiction biography.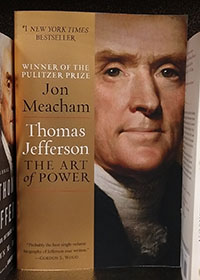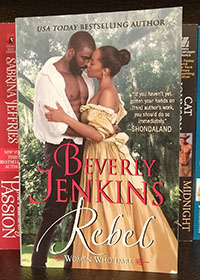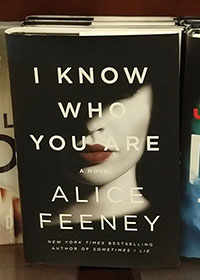 A cover doesn't need to be as standardized as the examples above. You can find a variety of different designs within a genre.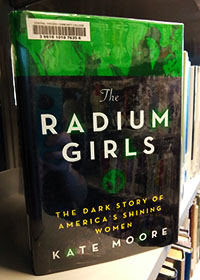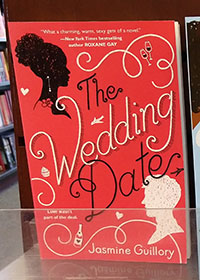 Unique and refreshing designs are great, as long as they accurately convey what readers can expect from the work. You don't want people to be confused about what you're trying to sell them. For example, assuming you've never seen the name E L James before, what would the cover below convey about Darker? Is it a romance, a thriller, or a memoir? Personally, I can't tell!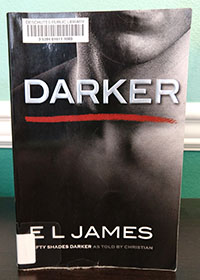 Readability
While it's tempting to prioritize beauty above all else, book covers must be readable. Few shoppers are intrigued by incomprehensible text that's too small, buried in a noisy background, has poor contrast, or uses an excessively stylized font.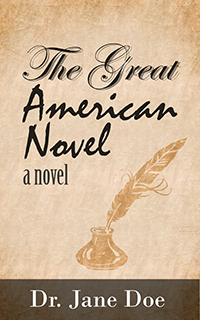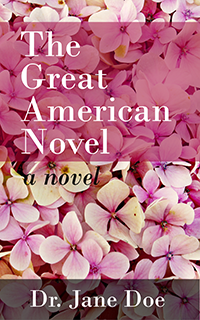 You might look at the mock covers above and think, "I actually like those." Elaborate fonts, colorful patterns, and transparent overlays are visually appealing. That's why it's so common for self-publishers (and even professional designers) to produce unreadable covers by accident! Sometimes you can make a design stronger by taking the fancy tricks down a notch.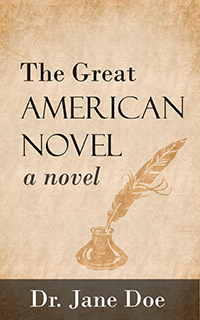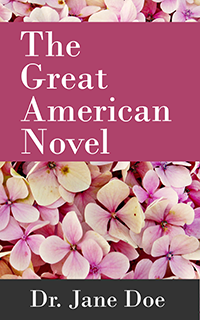 Scalability
Book covers designed today need to look good at a variety of sizes: in print, on high-resolution smartphone displays, and on websites shrunk down to tiny thumbnails. When you're working on a desktop computer, keep in mind that the small text and images that look good on the screen at full resolution could disappear in a thumbnail.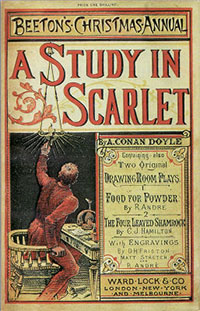 Simplicity
Professional-looking book covers are not overly complicated. Even those that appear ornate are simple in design, with large text and one central photo or illustration that jumps out from the screen or an in-store display. The appearance of complexity comes from details like shading, glow, and textures.
Amateurish-looking covers are often too busy. They contain many elements that don't mesh together, like multiple stock photos and text effects. Resist the temptation to clutter the composition with images that represent everything important in your book!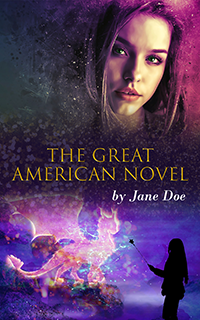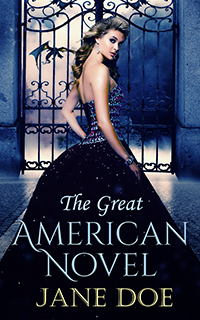 Activity: Design Your Cover
First, research current trends in cover designs for your genre. You can look at the New York Times Bestseller lists, genres in Goodreads, or this 2018 article of Book Cover Ideas. Save links to books with covers you'd like to emulate: the ones that catch your eye and invite you to click them for more information.
Next, brainstorm ideas for your own design.
What single strong image represents your book?
What mood should the design evoke? (Playful? Epic? Tragic? Cozy?)
What character should the typography have? (Formal or informal? Blocky or loopy? Traditional or modern?)
Finally, sketch out your composition, or describe it in notes.
Images and Fonts
Copyright Concerns
Using the internet, you can find thousands of images and fonts available to use in your cover designs. Many are free to use for commercial projects. However, you must be very careful!
All images, fonts, and other intellectual property (IP) are under copyright with all rights reserved, unless (a) the IP is in the public domain or (b) the copyright holder has placed an open license on the IP.
Public Domain Images
Creative materials in the public domain are not protected by intellectual property laws. Works in the public domain include...
Works created by the U.S. Government
Works with expired copyrights (as of January 2019, this is anything published before 1924)
Works dedicated to the public domain by their copyright holders
Openly Licensed Images
Works with open licenses on them are under copyright and subject to intellectual property laws. However, the copyright holders have given the public permission to use the works for specific purposes.
Open-source software is one increasingly common type of openly licensed IP. You might have encountered open-source software like LibreOffice, Krita, etc. and assumed it isn't under copyright because it's free to download and distribute. That's not the case! The developers still own the copyright, but they've chosen to make the software freely available under a specific license agreement (like the Mozilla Public License, the GNU General Public License, or many others).
Similarly, many typographers choose to release their work under the SIL Open Font License. They might also apply custom licenses that make fonts free for personal use, but not for use in commercial projects.
Visual artists often apply Creative Commons (CC) licenses to their photos, drawings, videos, and other artwork. The least restrictive CC licenses allow you to use the work for any reason as long as you give attribution to the creator in your acknowledgements. More restrictive licenses forbid use of the work for commercial or derivative projects. This guide from COCC Barber Library provides an overview of the potential license types: Open Educational Resources: Creative Commons Licenses.
Model Releases
The people depicted in photographs have the right to decide whether and how the images can be used commercially. If a person in a photo is identifiable from their face, distinguishing marks, or even the setting in the background, they can sue a publisher who uses the image in merchandise without permission.
To get permission in advance, photographers ask models to sign release forms. Reputable stock photo websites require the signed forms with photo submissions.
A model release is not required for fair use of an image. For example, a photojournalist can take pictures of attendees at an event and publish them in a newspaper without explicit permission from everyone depicted. Anyone can snap photos of people in public spaces and post them on personal blogs. The distinction between fair use and commercial use can get fuzzy in some situations, but for the purposes of this course, it's simple: books are always commercial!
Read more about model releases in this article: "Model Releases: What You Need to Know"
How to Find Images
Commercial Stock Photos
Even the biggest publishing companies use stock photos for most cover designs. Professional photo shoots with models are expensive and time-consuming!
You can find royalty-free photos available for purchase through the following websites. The cost to license a large high-quality image for commercial use can vary from $50 to $500 or more. Make sure you read the licenses carefully and obtain signed model release forms if necessary.
Public Domain and Creative Commons
If you don't have the budget for a professional stock photo, you can find many images on the internet under public domain or with open licenses.
You can use Google Images to find these images from a variety of sources. After performing a search, click "Tools," then "Usage rights." Select "Labeled for reuse" from the dropdown. This will restrict the results to pictures from websites like Pixabay, Wikimedia Commons, federal agencies, etc. with known licenses.
Always click through to the original website and read the license details, because they vary widely. You might have to do some digging to figure out if an image can be used for your project. For example, I searched for "Deschutes River" in Google Images with the "Labeled for reuse" filter applied, and I found the five images below. Which of them could I use on a book cover? Which require attribution?
Answers:
This is a photo by the U.S. Forest Service, a federal agency. It is in the public domain and can be used without attribution.
This photo was posted to Flickr by a professional photographer under the CC-BY license. You can use it commercially, but you must give credit to Rick Obst.
The photographer of this photo applied a CC-BY-SA license to it. You can use the photo only if the work you produce will also have a CC-BY-SA license. This doesn't prohibit commercial use, but it does mean you must openly license your whole book if you use this picture.
This photo uses the Pixabay License, an open license that is not Creative Commons. It's free for commercial use without attribution with some restrictions.
This photo was originally posted to Flickr by an employee of the Bureau of Land Management, which results in a confusing Wikimedia Commons page that claims it's both CC-BY and public domain! You can certainly use it, but whether you need to give attribution to the photographer is unclear.
From these examples, you can see people have a habit of copying images from some websites and posting them in others. To verify that the "free to use" image you found is owned by the person who posted it, you can use Google's nifty "Search by image" feature.
From the Google Images search page, click the icon of the camera. Copy/paste the URL of an image or upload a downloaded file, and Google will find the various places that image has been used around the web.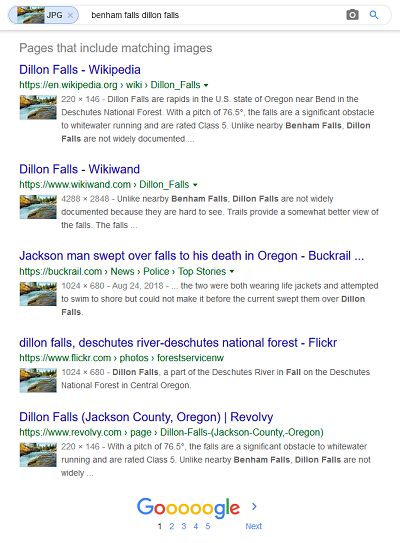 For free stock images, you'll probably see many pages of results from a search like this. That's a good sign, because it means others have also verified the image is free to use. However, getting many results is not an absolute guarantee that the image has been used legally by all of those websites. There will always be some risk to using art you find on the internet.
How to Find Fonts
As you saw from the examples at the beginning of this lesson, many covers don't use images at all. Typography and colors alone can communicate the genre of a book.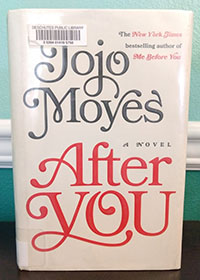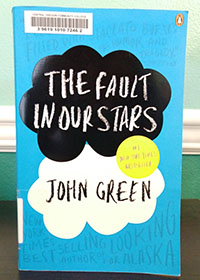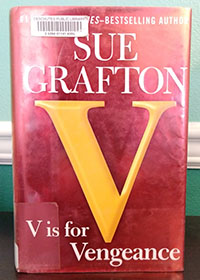 While you want to choose readable fonts, you don't want to use very common fonts. The fonts that come on your computer, like Times New Roman and Calibri, have cultural "baggage" and will look amateurish.
The two websites below specialize in fonts that are free for commercial use. Many other websites offer libraries of custom fonts, but you'll have to read the license for each one to check how you can use it.
To install the font on your machine, download the ZIP file. Inside you'll see at least one TTF (TrueType Font) or OTF (OpenType Font) file. Sometimes there will be multiple files with variations of a font, like italics and bold. Open the file and click "Install." The font will appear instantly in programs like Word and Photoshop.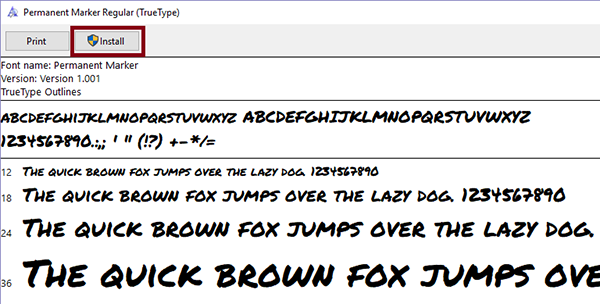 Activity: Gather Your Cover Elements
Using the composition you prepared in the previous activity, search for stock images and fonts you can use to build the design.
Reminders:
Always read licenses.
Before using an image of a person, make sure there's a signed model release form.
Verify the ownership of works as thoroughly as you can. There are dishonest people on the web!
Creating Cover Files
Using Microsoft Word
Technically, it's possible to build your cover using Microsoft Word. YouTube has several tutorials like the one below that demonstrate the features you can use to make book covers.
However, I don't recommend using Word to make book covers. Word is called Word, not Art! The software is intended for word processing, not for graphic design.
It's difficult to move image and text objects around, especially when you layer them. Building a cover over a template is nearly impossible.
You can't easily see and control the exact sizes, colors, and positions of objects.
Documents can be exported as PDFs only. You can't generate image files (JPGs, PNGs) to use on the web or in other documents without using clunky workarounds.
Using Photoshop
Adobe Photoshop is a dedicated graphic design program with plenty of tools to help you build your book cover. If you don't have an Adobe Creative Cloud subscription, COCC Library has two computers with Photoshop available to all patrons, including community members. You can also download open source graphic design programs with similar features, like GIMP.
The twenty-minute video below gives a broad introduction to the interface layout and tools available in Adobe Photoshop.
Now here's a more specific half-hour video by me, demonstrating how to build a paperback book cover in Photoshop using a template from Amazon KDP.
Using Platform Tools
If you don't want to build your cover from scratch, some services offer applications that can build covers automatically from templates. These apps offer their own stock photo libraries, color schemes, and fonts.
For example, this video demonstrates the features of Amazon's Cover Creator.
Below is a list of some other apps that can be used to build book covers.
Exporting Cover Files
Print
For print, your completed cover file will be a PDF in CMYK color mode. Flatten all layers before exporting the PDF from your graphics program.
Alternatively, if you have an Adobe Creative Cloud subscription, you can use Acrobat to flatten the file after exporting.
Ebooks
For eBooks, you'll need a JPG or PNG of the front cover only in RGB color mode.
After flattening your image, crop it to the dimensions recommended by your publishing service. Resize as needed.
Switch to RGB color mode and make adjustments if necessary. (Screens and print will always look slightly different.)
Set a resolution of 300 DPI/PPI unless your publishing service specifies a higher or lower number.
Save the image in the highest quality you can without exceeding a file size of about 2 MB.
Activity: Make Your Cover
Use Photoshop to build your cover file.
Use the requirements and/or templates from your chosen platform to set up the document.
Design the front cover, spine, and back cover.
Save your PSD file in a safe place, so you don't lose your work when you flatten and crop for exporting.
Flatten your image and export your completed file as a PDF in CMYK color mode.
Crop the image for eBooks and marketing. Export as a high-quality JPG or PNG in RGB color mode.
Nobody builds a perfect cover on the first try. Just like writing, graphic design compositions rarely work out the way we imagine they will. Experiment with different images, fonts, colors, textures, and effects. You might be surprised by the design that emerges in the end!
Resources
Downloads
Supplemental Readings
Though this book was published nearly twenty years ago, it offers an interesting overview of the evolution of trade cover designs from the 1930s to the end of the twentieth century.