Lesson 4: Publishing Print Books and Ebooks
Learning Outcome
Create and distribute print books and eBooks.
Write bibliographic metadata for print books and eBooks.
Use a publishing service to produce and distribute finished print books and eBooks.
Lesson
It's finally time to turn these digital interior and cover files into real books! This lesson will cover how to create eBooks and POD products from the files you've made in the previous lessons.
In This Lesson
In publishing, metadata is information that describes a book. Metadata includes information like the title, author, summary, publication date, language(s) used, subject headings, and identifiers like ISBNs.
Traditional publishers submit applications to the Library of Congress's Cataloging in Publication (CIP) program to catalog their titles. They do this firstly because the LOC produces thorough bibliographic records that will be used by libraries everywhere, and secondly because the LOC has the authority to collect "deposit copies" of all books printed in the United States.
Authors and self-publishers can optionally apply for the LOC's parallel Preassigned Control Number (PCN) program, in which librarians will catalog titles likely to be added to the LOC's collection. However, the LOC rarely requests or retains deposit copies self-published books. The LOC processes thousands of new items every day—including historically significant maps, photographs, audio recordings, etc.—and acquiring self-published books would add hundreds more!
For self-publishers, metadata is primarily important for discoverability and differentiation. Retailers like Amazon use genre categories to rank titles and suggest them to shoppers who purchased similar titles. Social media sites like Goodreads use ISBNs to provide automated links to product pages. If your book is sold in brick-and-mortar stores, the sellers will use the BISAC Subject Headings to determine where to place it on the shelves.
When filling out the metadata in your chosen service, enter as much as you can, but don't worry too much about selecting strategically optimal categories or the perfect keywords. Accuracy is more important than a number one ranking in a niche category.
In a text document, write down the basic metadata for your book. Use plain text with no special characters or formatting, so you can copy the metadata consistently into electronic forms in many different places (retailers, eBook converters, your author website, Goodreads, etc.). Save the file in a reliable place.
Field
Example
Title
The Great American Novel
Sort Title
Great American Novel, The
Author Name
Jane Doe
Author Sort Name
Doe, Jane
Series
(Blank)
Volume
(Blank)
Edition
First
Publication Date
October 31, 2019
Identifiers

e-ISBN: 9780312345678
Print ISBN: 9780323456789
ASIN: B12RDY3V45

Print Length
300 pages
BISAC Subject Headings*

FIC014000 FICTION / Historical / General
FIC066000 FICTION / Small Town & Rural

Description

It's 1903, and schoolteacher Grace Jones is looking for adventure. She finds it in the sunny frontier settlement of Farewell Bend. When an ambitious young banker, a handsome doctor, and a brash newspaper man come to town with big ideas, Grace gets more than a fun caper in the Wild West--she witnesses history in the making.

In this fictionalized account of the founding of modern-day Bend, the stars of Central Oregon history come to life.

Keywords
Bend, Central Oregon, Deschutes County, pioneers, Pacific Northwest history
Author Bio
Jane Doe grew up in Central Oregon and has a passion for preserving the region's rich history through storytelling. She lives in Sisters with her partner and their two Scottish terriers.
* Pick two or three subject headings. Retailers might use the standard BISAC headings or roughly equivalent categories.
About eBooks
Today, the word "eBook" can refer to a digital text in many different formats. Ebooks can be PDFs, webpages, and/or downloadable files in reflowable formats.
Fixed Format: PDF
PDFs, which you created for your interior and cover files already, are convenient for distribution—especially if you want to share your book openly for educational purposes. You can store them in a cloud service like Google Drive or DropBox, and anyone with the link can download the file and read it using free software.
PDFs always look as attractive as they did in your design program because they're a static size. Using the free Adobe Reader, readers can view the pages side-by-side as if they were reading the physical book in print.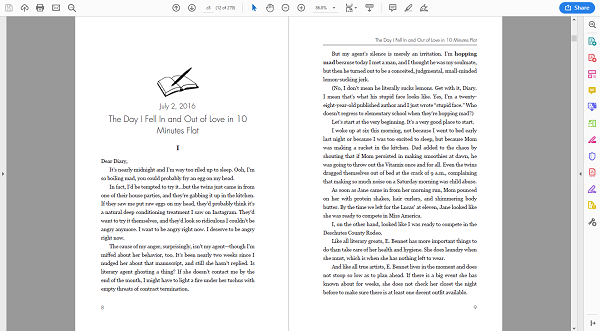 However, most PDFs look good only on desktop computers. They're difficult to read on mobile devices with smaller screens. Many people prefer eBooks for the convenience of reading them anytime, anywhere. They don't want to zoom in close to read the text, then carefully manipulate the page to follow each line.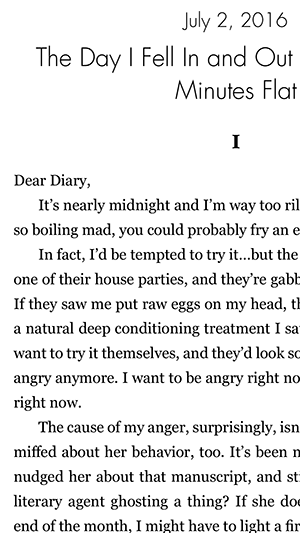 Reflowable Formats: EPUB and MOBI
The two most common reflowable eBook file types are EPUB and MOBI. MOBI is the proprietary Amazon format used by Kindles. EPUB is an open file format supported by every other eReader and app.
Reflowable format eBooks are much easier to read on mobile devices than PDFs. The content automatically adjusts to fit the screen, so readers don't need to zoom in or move anything around. The files also have built-in features like bookmarks and a linked table of contents readers can access any time.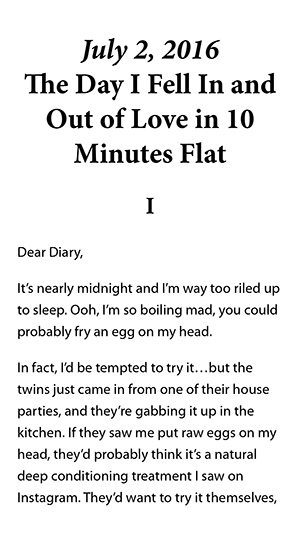 To read books in these formats, people must own either eReaders or personal devices with special apps installed. The files won't open instantly in a web browser like PDFs can. Desktop apps like Calibre and mobile apps like Aldiko or BlueFire Reader are free, but they can be a hassle to install and learn how to use.
While PDFs can use complex layouts with colorful sidebars, columns of text, and floating images, eBook design must be relatively "boring" to display nicely on small screens. All elements should stack on top of each other, or they'll look squished on a mobile phone.
Structure
Magic resizing eBooks might seem like futuristic inventions, but structurally they're nothing more than a ZIP file full of webpages.
To see what they look like, download a public domain EPUB from a site like Project Gutenberg. (In the screenshots below, I use one from Elizabeth Gaskell's North and South.) Examine the file by opening it in a program like 7-Zip. Explore the subfolders, and you'll see the eBook is simply a series of HTML pages, a couple of CSS stylesheets, and some XML files for metadata and navigation.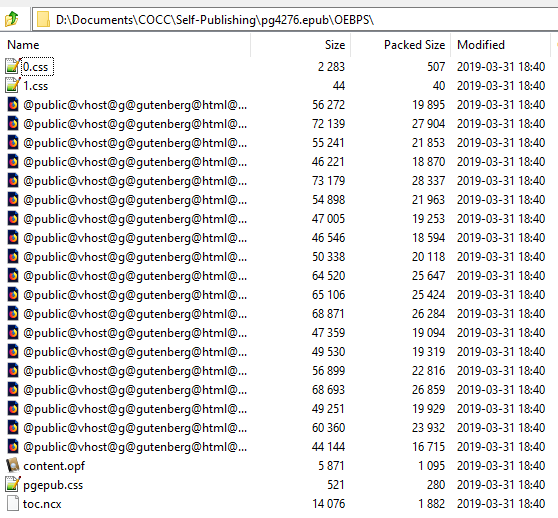 You can open any of the HTML files in a browser and read them just like a website.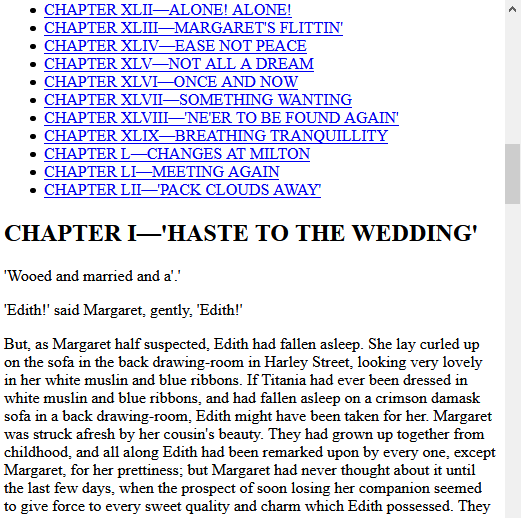 Becuase a modern eBook is made up of webpages, it's possible to include multimedia content. You can embed images, videos, and audio files to create enhanced textbooks, attractive recipe books, graphic novels with soundtracks, and more.
However, if your book contains a lot of multimedia content, the large file size could affect your list price and royalties. For example, if your Kindle book is 10 MB or greater, the minimum list price must be at least $2.99, and you'll have a delivery cost of 15¢ per MB in the 70% royalty option. (See KDP List Price Requirements and the Digital Pricing Page.)
You can reduce the size of your images by using different file types in different situations.
JPG will have the smallest file size for images with many colors. Save photos and other complex artwork as JPGs. Images of text, math equations, and small icons work better in other formats, because JPG is "lossy" and can make details look fuzzy.
| File Type | Example | File Size |
| --- | --- | --- |
| JPG | | 14.24 KB |
| PNG | | 32.55 KB |
PNG can produce a smaller file for images with a low "color depth." The size of a PNG depends on the number of colors used, so for illustrations with a limited palette, try saving the image as a flattened and compressed PNG.
SVG saves images as vectors, or formulas that represent lines and shapes. This file type is ideal for line art and icons because devices will draw them on-screen to look crisp at any size, from very small to very large.
| File Type | Example | File Size |
| --- | --- | --- |
| JPG | | 16.73 KB |
| PNG | | 6.42 KB |
| SVG | | 5.01 KB (See full size) |
Note: Older Kindle devices support JPG only, so many programs that convert eBooks to MOBI will recompress PNGs and SVGs as JPGs. Kindle devices and apps made 2011 or later can read the "KF8" file format, which does support PNG and SVG images. (See "Format Images in Your eBook.") You can use the free software KindleGen to create an eBook for Kindles that contains both a classic MOBI and a KF8. When customers download the eBook from the Kindle Store, Amazon will deliver the most modern version that fits their devices.
Digital Rights Management (DRM)
For eBooks you get from retail sites or libraries, you won't likely be able to crack open the file and read the contents in a browser like we did with North and South. Publishers attempt to deter piracy by applying Digital Rights Management (DRM), which encrypts books so they can't be shared between different people or devices.
For example, if you find an eBook through Deschutes Public Library, you must use a special program like the Libby App to open it.
Publishing services might give you the choice of applying DRM or not. Many self-published authors elect to make their books restriction-free for a variety of reasons. This blog post outlines some pros and cons: "Ebook DRM & Security."
Activity: Your Ebook Experiences
Reflect on your past experiences with eBooks. If you have little previous experience with them, Deschutes Public Library offers thousands of eBooks you can download easily through their new app, Libby. COCC Barber Library also loans Kindle eReaders with access to a hundred popular titles.
Which formats do you prefer, and why?
Have you had a frustrating experience with an eBook? What made it difficult or unpleasant to use?
Have you had a great experience with an eBook? What attractive or convenient features would you like to emulate in your own book?
Ebook Conversion
Word Docs to Ebooks
Most major publishing services offer automatic conversion from Word files to EPUB and/or MOBI files. In the early 2010s, Smashwords was the most popular service for generating eBooks. Now Internet sources commonly recommend Draft2Digital and Kindle Create for a smooth experience and consistent results.
Draft2Digital
Draft2Digital is popular with authors today because, unlike the early conversion services, it doesn't have finicky format requirements. The company claims "anything Word can read, we can read" and "our goal is to support your style guide."
The style suggestions specify no front or back matter, because the converter will optionally add those elements during the setup process.
The forty-minute video below walks through the complete process of using Draft2Digital to generate an eBook. Jump to 18:34 to skip the setup and see the template options.
Kindle Create
In 2017, Amazon launched the free desktop software Kindle Create. This program allows you to build a Kindle file from a clean Word file and add styles, images, and hyperlinks. A built-in previewer emulates the appearance of the final eBook on Kindle devices.
Note: Kindle Create will produce only an eBook you can upload to Amazon, not an EPUB you can use with other distribution services. It's most useful for self-publishers who plan to enroll in KDP Select.
The Kindle Create Tutorial provides a step-by-step introduction to using the software.
Webpages to Ebooks
If you want more control over the final product, free open-source software like Calibre allows you to convert webpages into EPUB and MOBI files. This can be useful if you composed your manuscript in a program other than Word, if you have experience with HTML and CSS and want to apply custom styles, or if your manuscript contains multimedia the automatic converters might not handle well.
Calibre also allows you to edit EPUB files after they're created. If you like the ease of using a service like Draft2Digital, but you want to make some changes to the templates, you can generate an EPUB there and edit it in Calibre.
The following links explain how to use Calibre to produce and edit eBook files from HTML.
Testing
Before you make your eBook available for purchase, test it on a few different devices and apps. Check the appearance of text and images, the table of contents, and any internal links and page breaks. Try out common customization features your readers are likely to use: resizing the font, changing the background color, adjusting margins and line spacing. Make sure people will be able to read your book the way they prefer.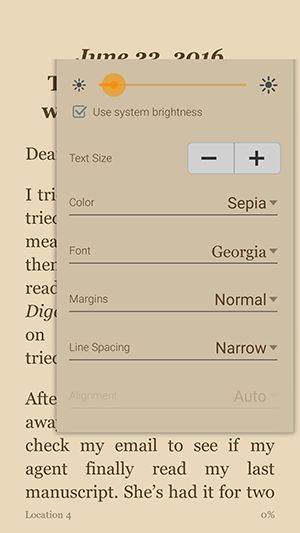 To test an EPUB file on a smartphone or tablet, download a free app like Aldiko or BlueFire Reader. Transfer the file to your device using one of the methods below, then open it in the app.
Email the EPUB to yourself and download the attachment on your device.
Upload the EPUB to a cloud service like Google Drive, then download it on your device.
Connect your device to a desktop using the USB charging cord. Set the device to file transfer mode, and drag the EPUB to a folder you can reach.
To test a MOBI file, you can download the Kindle Previewer for desktop or the Kindle app for mobile devices. Testing a MOBI in the Kindle app can be tricky, because some devices require you to place the file in a specific location. See the links below for instructions.
Activity: Create an eBook
Using the service or software of your choice, convert the clean manuscript you created in Lesson 2 into various eBook formats.
Produce PDF, EPUB, and/or MOBI files.
Test the files to see how they look on eReaders and apps.
Make changes as necessary, reproduce the files, and test again until you're satisfied the eBooks are ready for distribution.
Ebook and POD Setup
As soon as your eBook file is ready, you can upload and sell it! You can make it available for sale today, if you want.
On the other hand, setting up a POD book requires some patience. Regardless of the printing service you choose, the process will probably look like this.
Upload your cover and interior files.
Preview the book digitally.
Order a proof copy.
The proof arrives in two to three weeks.
Adjust your cover and/or interior as necessary. Repeat from step one.
Printed books rarely turn out perfectly on the first try. The colors turn out darker than expected, the margins are too narrow, and there are typos nobody caught earlier. Budget for multiple proofs and set your launch date a couple of months in the future.
Activity: Set up Your Book Editions
Now you have all the files and information you need to publish your book in print and electronic formats. In the service of your choice, set up your paperback, hardcover, and/or eBook. Use the metadata you wrote down earlier to fill out the product details, and upload the relevant content and cover files.
Congratulations—you made a book!>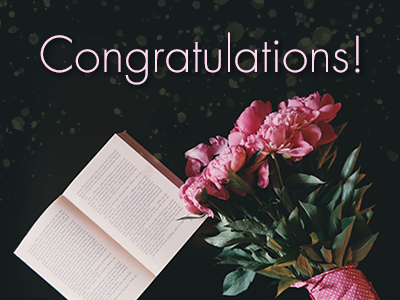 Resources
Downloads